The idea of Ripoli notes was born from the desire to stay in touch with our customers, with the hope of one day being able to meet in our holiday home called Palazzo del Duca, the place where Francesco's passion for wine has been shared for many years with friends and guests from all over the world
Do you want to know how Ripoli notes work? Watch the video
How the Ripoli Note looks like ?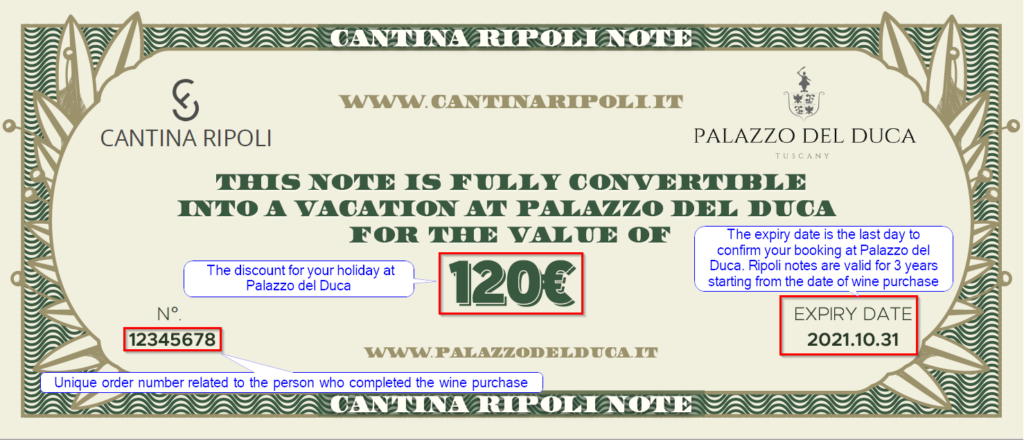 Where can I see the prices for Palazzo Del Duca?
On the Palazzo del Duca Holiday Home website you will find the prices for each apartment according to the season. The value of the Ripoli notes will be deducted from the price of the booked holiday. To know the availability of a specific apartment you can send an email to info@palazzodelduca.it
Can I transfer the Ripoli notes to someone else?
The voucher can be transferred to third parties upon communication by email to the address mirella.dimuro@cantinaripoli.it which will be followed by a reply from the Company as proof of the receipt of the message. The Ripoli Note will in fact be considered transferred only upon receipt by the transfer or of the acknowledgment email sent by Cantina Ripoli. In the communication of transfer, the transferor must communicate to Cantina Ripoli the name / company name and the email address of the person to whom the Ripoli Note is transferred in compliance with the Privacy legislation. The Company will then contact the transferee at the provided addresses, for the communications strictly necessary for the use of the transferred Ripoli Note.
When can I use the Ripoli note?
You can use the Ripoli note during all three years of its length and according to the availability at the time of your request in the months of January, February, March, April, May, September, October, November and December. For the diamond purchase, it is possible to use it also in the high season (June, July, August)